Ambience 4.x log usage
1. Ambience.log
Provides details as well a summarized view of the background processes of the Ambience Server instance. The information at the Ambience log level is a high level summary and would require users to refer to the relevant error/minute-minder/audit logs (match via timestamp) for more details
2. Audit.log
The audit logs would log down most activities carried out by a specific user account.
3. Job-engine-n.log
The Job Engines logs information on the processes running at each job engine.
4. Error.log
Provides a daily summary of errors and exceptions at the Ambience Server or job engine level.
5. Minute-minder.csv
Tracking of the back-end processes at minute intervals.
6. Remote.log
Information on any remote connections made by the Ambience Designer.
7. Usage.log
Not in use, applicable if the Ambience Server is configured to be multi-tenanted.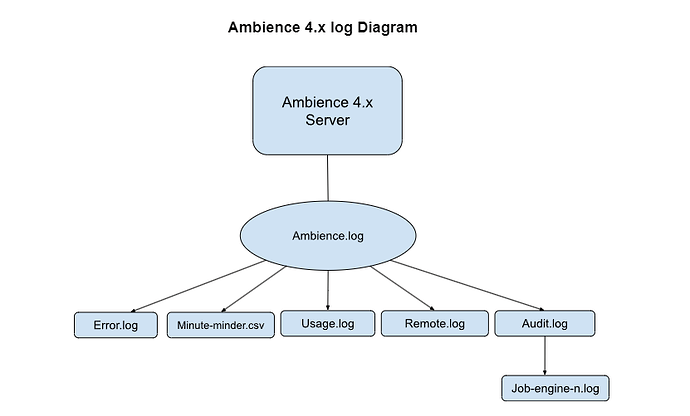 See the attached file for samples and more details on the Ambience 4.x log use.
Ambience 4.x Logs Usage.pdf (94.6 KB)
Ambience 4.x Logged User Activities.pdf (235.8 KB)