This entry guides you through the steps on how to Map & Encode font in Ambience/Repertoire v202x through the etc/application.conf file.
This example uses the Arial font to render out the missing Superscript into a PDF output from the report template.
Notes:
If fonts other than Arial is used, please ensure that the selected font supports the desired Subscripts & Superscripts.
For Linux environment's, do ensure that required fonts are loaded in your system cache.
(Click here for the steps to ensure that fonts have been loaded.)
---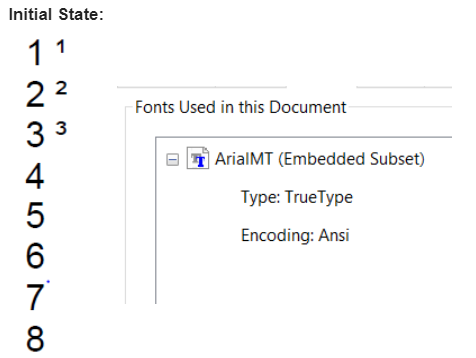 Steps:

In your Ambience installation path, open up the etc/application.conf file.
Navigate to the following node, " elixir.rml "
Revise the highlighted parts as shown in the screenshot below as required.

Once done, save the etc/application.conf file & restart the Ambience server.
Test out rendering the RML template & you would be able to view the following output.

Sample RML template can be found
here (1.9 KB)