Establishing connections to Oracle Database (Repertoire 8.8)
Download the Oracle JDBC driver. Driver can be downloaded here
JDBC and UCP Downloads page | Oracle СНГ

Deploy the ojdbc driver in the \lib directory of the Repertoire 8.8 installation folder

Restart the Repertoire server and start up the Repertoire designer

Add a new Connection Pool and input in the necessary fields.
Driver: oracle.jdbc.driver.OracleDriver
URL : jdbc:oracle:thin:@::
Provide the login name and password for the Oracle Database
E.g : Default Oracle Database Name is "xe"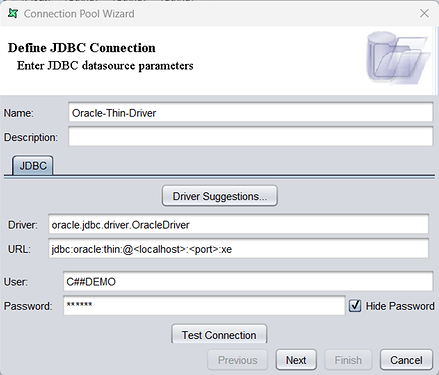 Once done, click the Test Connection button and you should be able to view the pop up box which mention that the test connection was successfully.